Northwest Room exhibits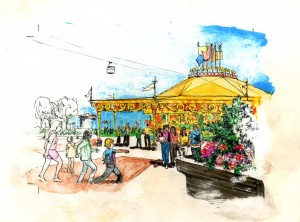 The Northwest Room displays permanent art from the collection, including Catholic Ladders, "Bird's Eye" or panoramic maps of Spokane, and original artwork. The room also includes five display cases, which feature temporary exhibits, which rotate several times a year.
Current Exhibit
The Art of Book Illustration
December 2019 – February 2020
In western literature, the tradition of modern book illustration originates with 15th-century block books, where the text of a book was carved into the same block as the image. Visit the Northwest Room to view our collection of old book illustrations.
Northwest Room Hours:
Closed Sunday and Monday
Tuesday: 1pm – 8pm
Wednesday: 1pm – 6pm
Thursday: 10am – 6pm
Friday: 1pm – 6pm
Saturday: 1pm – 6pm   
Past Exhibits
August 2019 – November 2019: Journeys & Adventures
February 2019 – April 2019: Artists of the American West
November 2018 – January 2019 : Nature's Paradise
August 2018-October 2018: Immigration in Spokane
May 2018-July 2018: Mapping the World
November 2017–January 2018: Adventures and Opportunities in the Great West
August–October 2017: Greetings from the Northwest
May–July 2017: The Publishing Journey of Lewis and Clark's Journals
January–May 2017: The Search for the Northwest Passage